The Department of Energy Technology teaches all aspects of Energy Engineering including production, transmission, distribution and sustainable energy. All teaching is research based which means that students benefit from their professors and teachers being researchers themselves. Hence, all students gain access to contemporary knowledge within their study area. During the courses, students can test their theoretical skills in practice in well-equipped and modern laboratories.
Our Undergraduate Programmes (Bachelor's Programmes) take three years and span over six semesters. From the 5th semester, all teaching is carried out in English, partly in order to accommodate the numerous international students attending our courses. The Department offers Undergraduate Programmes in both Aalborg and Esbjerg: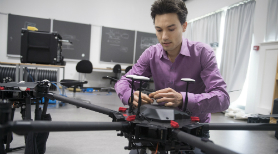 The Postgraduate Programmes (Master's Programmes) take two years, and students are encouraged to carry out their Master's Thesis in cooperation with an industrial partner. A large number of companies work closely with the Department of Energy Technology, and thus, the students have immediate access to collaboration partners.
Depending on your undergraduate programme and your specialisation, your Bachelor's Degree qualifies you to enter one of the following Postgraduate Programmes (Master's Programmes):
Energy Engineering (Aalborg) (Danish description) with a specialisation in:
Sustainable Energy Engineering (Esbjerg) (Danish description) with a specialisation in:
Advanced Power Electronics (Esbjerg) (Danish description)