Advantages of Membership
Direct influence on composition and contents of the energy studies
Possibility of close contact with students
Read more here
Advantages for Students
Special sponsorships
Awards at graduation
Company visits / Companies' Day
Read more here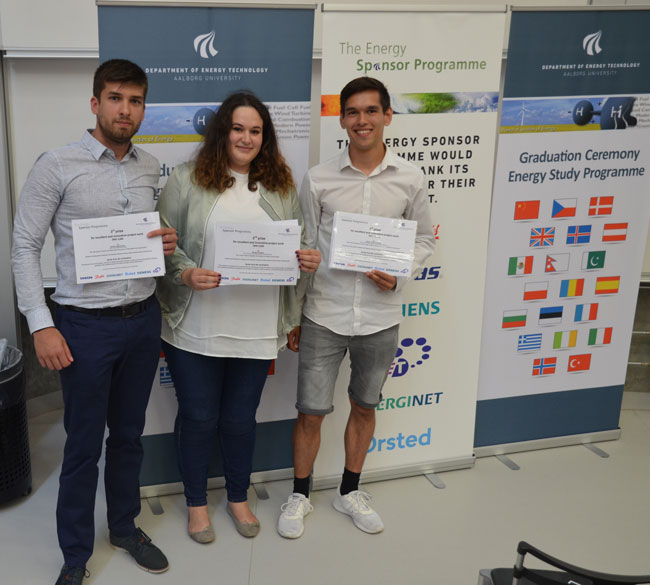 Winners of the Energy Sponsor Programme Prizes 2018.
Membership
Fees
Extended Membership: 50,000 DKK a year
Basic Membership: 35,000 DKK a year
*Basic (discount): 17,000 DKK a year
*Small companies with a staff of 25 employees or less may gain a special discount price on a Basic membership.
Background of the Energy Sponsor Programme
The industry has experienced an increased need for qualified candidates in energy. Hence, it seemed sensible for the University and companies to act together in view of ensuring the quality of the educational programmes as well as a large and stable outcome of Postgraduate students at a high academic level. Over the last years, the Department of Energy Technology has worked together with companies individually on stabilising and increasing the number of students/candidates. However, it is our view that we can and should do more than this, and it seems perfectly sensible to gather our experience, strengths and initiatives within energy in a joint effort.
Purpose
The overall purpose of the Energy Sponsor Programme is to strengthen the educational programmes in energy and to ensure future knowhow and working power within the area. In order to achieve this, the Energy Sponsor Programme focuses on:
Educating postgraduate students
Content and quality of the educational programmes
Communication/marketing
Internationalisation
Board
The Energy Sponsor Programme is organised by a board in which the Department and a range of chosen companies are represented. Furthermore, the Programme has a part time secretariat at the Department of Energy Technology that attends to the organisation and administration of the programme. Members of the Board naturally influence the Energy Sponsor Programme both with regards to management and decisions concerning e.g. activities, budget and the annual Energy Seminar etc. Board meetings are held twice a year.
Testimonial by an Energy Sponsor Programme Member

Siemens Wind Power
"Siemens Wind Power considers the Energy Sponsor Programme as an important co-operation partner, especially when it comes to getting skilled employees in Denmark. Especially the electrical part of the energy study needs maximum support from the industry which is also our main reason for having established an office at the Department of Energy Technology with focus on performance electronics and generators besides being a member of the Energy Sponsor Programme. Both initiatives give us a welcome and optimal opportunity to support the energy studies in a relevant direction. As a bonus the synergy between the Department and our company as well as the exposure towards the students through various activities are increased."