Introduction
Global concerns with regards to pollution and greenhouse gas (GHG) emissions have led to stricter regulations in the maritime industry. As a result, growing efforts have been reported to make the onboard energy systems more efficient. Therefore, the maritime sector needs urgent modernization. The Advanced Control of Power Converters for Future Energy Systems Laboratory uses state-of-the-art real time simulation and reduced scale experimental platform to design, test and verify the integration of new technologies into various types of marine vessels such as drilling, transport and naval. Developments are made according to the newest marine class regulations.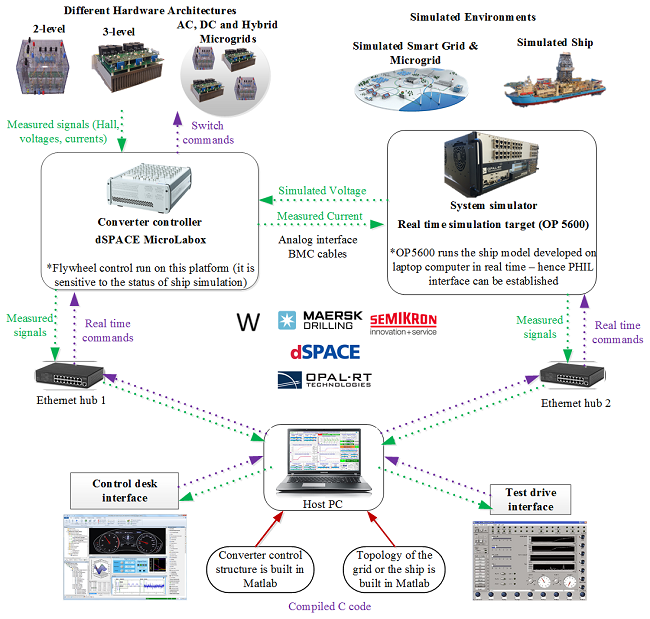 Facilities
The laboratory facility currently operates around the advanced 12-core real time simulator that is fully
compatible with the Matlab/SimPowerSystems and can be used for a broad range of onshore and offshore
applications. In particular, the simulator is able to:
Simulate in real time complex electrical networks on paralleled CPU cores
Simulate in real time converter topologies on FPGA board
Interface with power amplifiers for testing the influence of physical equipment (either power hardware or controller prototypes) on simulated infrastructure
Design rapid control prototypes
Hardware infrastructure includes two voltage source converters (VSC) that can be run as single unit or parallel connected, one three-level neutral point diode clamped (NPC) converter, converter controllers, real time simulator and a Host PC. Converters are controlled through dSpace MicroLabBox, suitable for quick control algorithm testing and monitoring. Therefore, new control algorithms can be designed in MATLAB/Simulink and experimentally verified on this set-up.
RT simulator OP 5600 operated via the host PC is running a MATLAB/Simulink ship model or Smart Grid & Microgrid simulation and generating the converter voltage reference. In the same time the simulator is receiving feedback measurements from dSpace controller establishing the power hardware in the loop (PHIL) interface.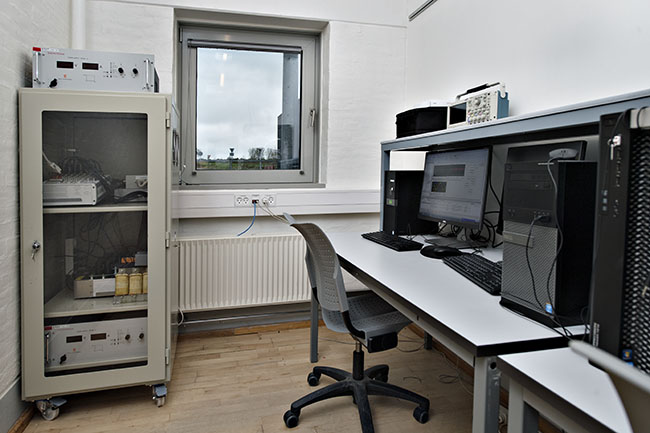 Features & Services
The Advanced Control of Power Converters for Future Energy Systems lab can be used for a research, development and testing platform to develop new solutions for maritime industry.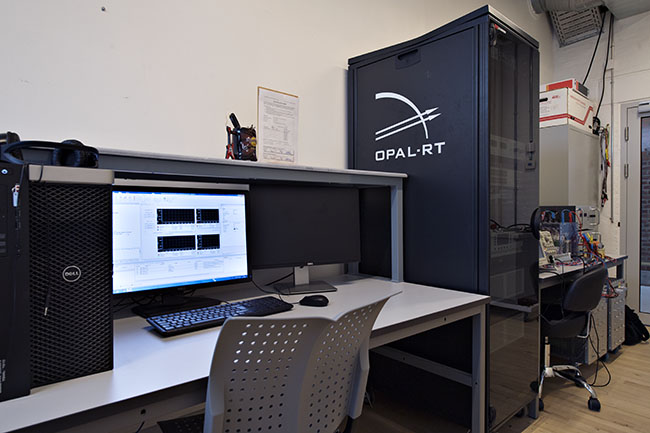 Sponsors
The Advanced Control of Power Converters for Future Energy Systems Laboratory is developed in cooperation with:


Location
Pontoppidanstraede 109, room 1.121
9220, Aalborg East
See location on map