Students from the Department of Energy Technology at Aalborg University took a very nice second place in the Shell EcoMarathon 2019, Urban Concept Hydrogen class. The students succeeded in driving what corresponds to approximately 630 km on one liter of petrol in a home-built car. The car is made by engineering students, with focus on aerodynamics, fuel cell and engine system.
The competition is about driving most efficiently with a person of at least 70 kilo. The race took place in Weybridge, London and the track was approx. 1.42 km per lap, and for each lap, the car must stop and start again. You do 11 laps on the track (15,620 meters), and this must be done in less than 39 minutes. All energy from the car must come from the fuel cell, so before and after each heat, the consumption of hydrogen will be measured and the efficiency of the heat will be calculated. The best result is compared to the other universities' results in the same class.
The first place, in the hydrogen class, went to the Dutch team Green Team Twente with 242 km / m3. Aalborg University ran 214 km / m3, which corresponds to approximately 620 km / l equivalent to unleaded 95, which was enough for a second place in the hydrogen class. The third place went to another Dutch team, HAN Hydromotive, with 212 km / m3.
The car can be seen until September 27 at the main library in Aalborg, where the car is exhibited in connection with the Universitarium's exhibition on future energy systems. The theme of the exhibition is the United Nations' Sustainable Development Goal #7, Sustainable Energy.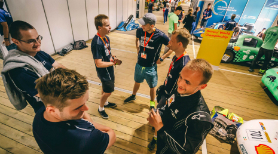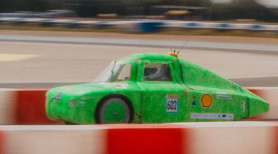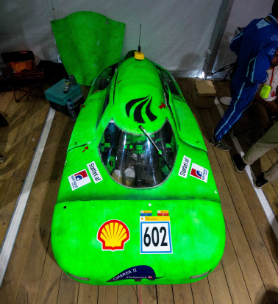 Read more about the Drivers' World Championship on the official website
Like and learn more about the entire experience on Team Aalborg Energy's facebook page