PROJECT TITLE: Model Predictive Control and AI Techniques for EMS in Multi-Microgrids
PhD period: 2020.02.01 – 2023.01.31.
Section: Power Electronic Systems
Research Programme: Microgrids
Supervisor: Josep M. Guerrero
Co-Supervisor: Juan Carlos Vasquez
Contact Information
Collaborator: TBA.
Funding: Self-financing.
ABSTRACT
A step forward to reduce our dependence on fossil fuels for our energy demands, presently renewable energy sources like solar, wind, hydro, biomass, geothermal, and marine renewable energy makes 19% of the world primary energy needs. Various national and global energy organizations are setting up new goals to meet most of the energy requirement using renewables. As new renewable microgrids are connected to the existing power system, the power grid is transforming into multi-microgrid and multi-microgrid clusters.
The multi-microgrid system is not only a step forward to meet our energy needs from renewable sources but also increased supply reliability, better power quality and reduced load on the main grid. Moreover, it also enhances system reliability and resiliency under extreme conditions, black start capability, energy transfer efficiency, uncertainty management, and reduces the cost of energy. Establishing coordinated control and communication among the multi-microgrid clusters is required to extract the advantages of multi-microgrid. The control structure can be built in centralized, decentralized, distributed, and hierarchical out of which distributed and hierarchical has benefits of a higher degree of expansion, plug and play facility. Controllers based on droop control, PI control and Multiagent Systems (MAS) are well established. The inception of Model Predictive Control (MPC) provides an easy and intuitive solution for the control of Multi-Microgrid control as they can handle multivariable cost functions, include limits to fault conditions, and include probability-based uncertainty considerations. Moreover, in distributed and hierarchical control, communication between the various units of the multi-microgrid structure plays an integral part of the coordinated control. Communication between multiple control units involves communication delays and loss of data which can also be included in the controller by MPC.
In this PhD project, implementation of MPC for Energy Management System (EMS) of multi-microgrids is to be investigated, taking into account the communication issues between various units and controllers. Moreover, implementation of Artificial Intelligence (AI) techniques for power generation and energy scheduling is to be examined to make the operation of multi-microgrid system more stable, reliable, resilient and economical.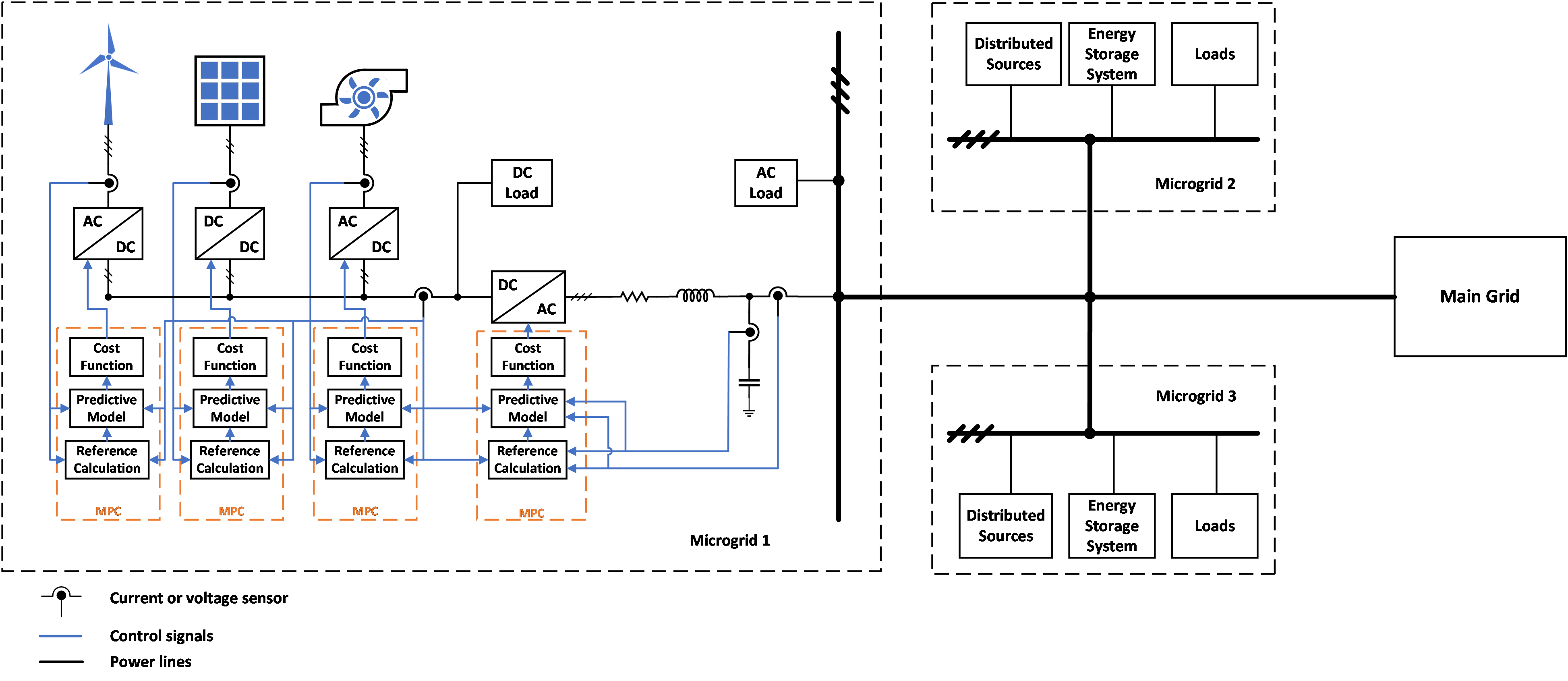 Papers
Publications in journals and conference papers may be found at VBN.