PROJECT TITLE: Power Management System in Dynamic Positioning Platform Supply Vessel

PhD period: 2018.04.01 – 2021.03.31.
Section: Power Electronic Systems
Research Programmes: Microgrids
Supervisor: Josep Guerrero
Co-Supervisor: Juan Carlos Vasquez
Contact Information
Collaborator: Maersk.
Funding: Self-financing.
ABSTRACT
A dynamic positioning system (DPS) is an advanced piece of technology, which is widely used in vessels, platforms, and other ocean structures. A positioned vessel or platform is continuously exposed to environmental disturbances such as wind, waves, and seawater current. A DPS is a system that automatically maintains a vessel's or a platform's position and heading by applying its thrusters, which cause the design of a DPS control system has become increasingly important. The majority of these modern vessels are equipped with a diesel electric power generation plants, renewables energies storage and variable speed thrusters for positioning. One of the worst scenarios for a DPS vessel is blackout of the power system, and ship owners make a big effort and vendors to increase the systems against towards failures. A key part of the blackout prevention functionality is found in the Power Management System. The main goal in this PhD project aims to significant developments of Power Management system (PMS) by introducing the intelligence control methods to decrease the risk of blackout, load shedding, emission and fuel optimizing which is allocated the thrusters as the largest consumers in dynamic positioning (DP) vessels conditions. The typical structure of DP semi-submersible drilling rig. See fig1.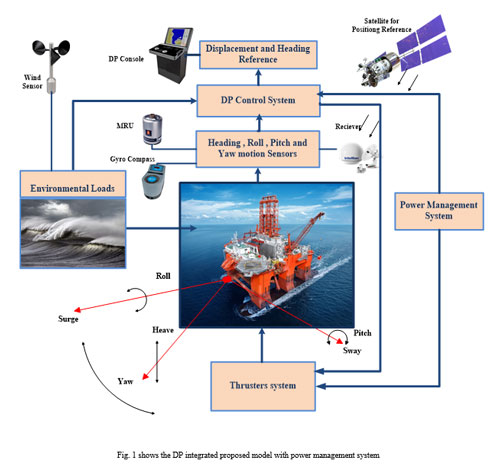 Papers
Publications in journals and conference papers may be found at VBN.