PROJECT TITLE: Stability Analysis of highly Aggregated Power Electronic-based Photovoltaic Power Systems

PhD period: 2018.05.01 – 2021.04.30. (due to leave of absence the period has been prolonged till 2021.10.30)
Section: Power Electronic Systems
Research Programmes: Photovoltaic Systems and Efficient and Reliable Power Electronics
Supervisor: Yongheng Yang
Co-Supervisors: Huai Wang and Frede Blaabjerg
Contact Information
Collaborator: Sichuan University.
Funding: China Scholarship Council (CSC) and Department of Energy Technology.
ABSTRACT
With the revolution of renewable energy, the power system is being more complicated rapidly and also integrated with more power electronics, which is referred to as the "power electronized" power system. It may consists of wind farms, photovoltaic (PV) systems, synchronous generators (SGs), induction motors, etc., as shown in Fig. 1.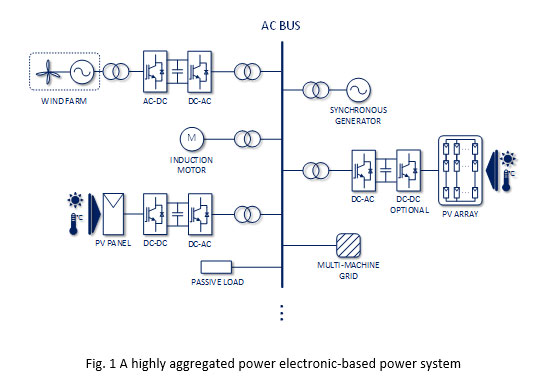 As the generating of wind power and solar power is typically with randomness and uncertainty, and the mutual effect among highly aggregated converters is undiscovered, the dynamic of system becomes more unpredicted. The dynamic characteristics and operational mechanism of power system become more important in order to provide theoretical foundation and technological support for power system improvement. However, the research of the highly aggregated power electronic-based power system does not match the advancement.
The aim of this PhD project is to investigate the stability dynamics of highly aggregated power electronic-based power system, based on which the system can develop and expand healthily. The objectives of this project are as follows.
Disclosing external characteristics of power electronic converters. It will not only represent the converter in a universal way, but also give us the information about the connection between converters and SGs, which is important to the stability analysis and control system design.
Revealing mutual effect among highly aggregated converters. It will consider multiple control time scales and highlight the dynamics of most concerned parameters for converters and SGs. The result will make requirement to control of grid-connected converter.
Advancing hierarchical control strategy of highly aggregated power electronics based power system. It will optimize steady-state operation of system and ensure fault ride-through capability of system under unexpected condition.
Papers
Publications in journals and conference papers may be found at VBN.