Currently, the focus of the European Union is to integrate Smart Grid technologies in the whole energy systems to achieve system adequacy, energy efficiencies, low-carbon and sustainable goals and objectives.

The rapidly increasing large share of distributed generation, wind farms, solar PVs, energy storages, demand side management and new loads like electrical vehicles, heat pumps and electrolysers will affect the network technically in a number of ways and have influence on the load flow patterns, the power quality, power system protection, and the voltage, frequency and reactive power control.

The distribution system operator needs to visualise the state of the changing structure of the distribution grids integrated with smart meters, new technologies and demand-side participation for cost-effective operation. Incentive mechanisms to consumers, their adaptability and response to variable tariffs, new energy market platforms and technologies, integration of ancillary services and distribution system flexibility from DSO level into TSO operations are some of the relevant aspects which are to be developed for the realistic deployment of smart grids.

Due to the large number of dispersed generation and the possibility of support from other energy sectors, it is also possible to run parts of the distribution network as islanded, self-healing and resilient grids. This demand for new self-organised control and protection methods to run the system in a safe and reliable condition also, if islanded.

These challenges and options necessitate the adoption of adaptive and techno-economically feasible support mechanisms in the energy systems, both on local, national and European levels. It also demands for back-up energy systems, local storages in the energy networks, and demands for flexibility, intelligent asset control and aggregation services to supplement secure and stable operation of the electricity grid.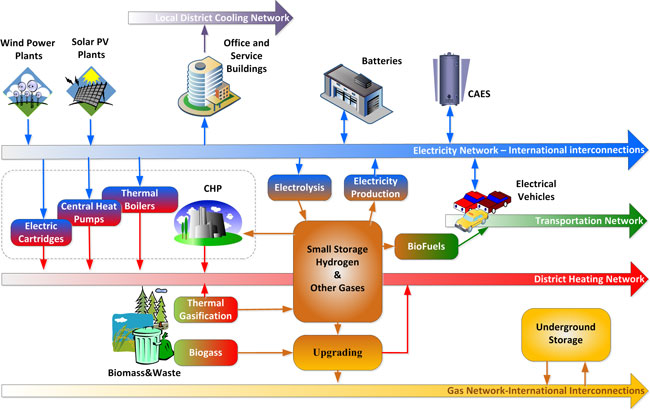 For an effective progress of smart grids, an integrated smart energy system incorporating the electricity grids into the well-developed gas and district heating grids with inherent energy storage and conversion options forms a cohesive solution to exploit the synergy between different energy sectors, to help increase the use of renewable energy. The measure of interdependence and interoperability of these various systems is crucial for the socio-techno-economic deployment of intelligent energy systems.

Information and Communication Technologies (ICT) will be a key factor for intelligent and optimal operation of the integrated energy system in this process of accommodating smart technologies, distributed energy resources and demand side management. New features added by ICT and ICT-based applications as universal connectivity, services over internet and web, distributed intelligence, advanced fault handling, intelligent load shedding etc. will transform the existing electrical grid into an intelligent and active energy system.

Read more about Intelligent Energy Systems and Active Networks