Trends
European Union is focusing on integrating smart grid technologies in energy systems to achieve system adequacy, energy efficiency, low-carbon and sustainability, circular economy and user comfort.
Power system's architecture and its operation is changing due to large share of renewables and distributed energy resources (DERs).
More interaction between different energy sectors, new storage possibilities and new loads like electrical vehicles, heat pumps, and electrolysers are expected.
Enabling energy flexibility and efficiency for economic savings in integrated energy systems using ICT tools and big data from advanced metering infrastructures.
Advanced distributed management systems (ADMS) for smartening active distribution grids are highly essential.

Challenges
New load flow patterns in distribution grids, power quality compliance, power system protection and control requires new approaches.
Handling of big data from smart meters and devices, for flexibility estimation, enhanced controllability and observability of energy networks.
Integration of ancillary services and distribution system flexibility from DSO level into TSO operation.
Most of the energy vectors are dis-aggregated and active only in specific markets, and the time scales and capacity allocation for operation and control of energy assets and networks are varied.
Need for active consumer engagement, incentive mechanisms to consumers/prosumers and their adaptability in responding to variable tariffs, emerging energy market platforms, policies and regulations.
Lack of operational mechanisms and decision support systems for different energy vectors to expand to other energy markets.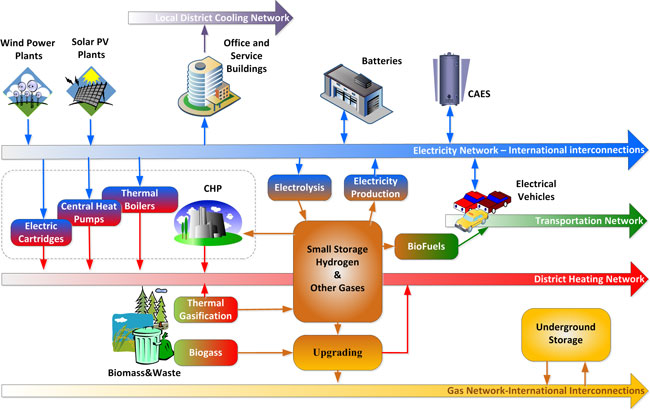 read more about intelligent energy systems and active networks