Official website http://vicinity-h2020.eu/vicinity
Official Twitter website here
Official Linkedin website here
Official youtube website here
Official facebook here


News: Dr. Yajuan Guan will attend IoTsummit and the IoTweek . The first VICINITY paper will be presented there:


News: Dr. Yajuan Guan and Natalie Samovich presenting @VICINITY2020 project. Q&A session with all IoT_EPI projects in Geneva (Please see it the final version at the end of this page)


Annoucement: Dr Mehdi Savaghebi is a co-chair for a Special Session on Communications and Control in Power and Energy Systems will be held in conjunction with the 17th edition of the IEEE International Conference on Ubiquitous Wireless Broadband ICUWB'2017 in Salamanca, Spain, from September 12th to 15th, 2017. Deadline: April 24th, 2017. Please see more information here

Annoucement: There is a iTHINGS-2017 Special Session on Energy Internet - Integrating Internet of Things into the Smart Energy Systens. Deadline: March, 2017. Please see more information here
News: Dr Mehdi Savaghebi has presented a Tutorial at "23rd Int. Symp. Power Electron., Elec. Drives, Automation and Motion (SPEEDAM 2016)" organised by Naples Federico II University on 22 June 2016, in Capri, Italy. VICINITY project was also presented there. VICINITY was the topic of some interesting discussions and questions mainly focused on the benefits of utilizing IoT devices and platforms to ensure a highly reliable and optimized operation of smart energy systems with the focus on microgrids.
Dr. Yajuan Guan has been hired from this project. Her work is related to Vicinity Dissemination Activities, IoT Laboratory testing and overall system Integration.
News: Prof. Josep Guerrero and Associate Professor Juan C. Vasquez will attend the IoT Solutions World Congress #IOTSWC16 taking place October 25-27, 2016.
IoT-European Platforms Initiative & IoT-Meetup Austria have teamed up to foster collaboration and to become a joint driver for IoT in Austria and Europe. Please see all the details here
Professor Josep Guerrero, Dr. Juan Vasquez and Dr. Mehdi Savaghebi attended the haf-year project meeting last June 21-24 2016, in Valencia , Spain. VICINITY and 6 other projects is present at the IoT EPI meeting in Valencia #IOTEPI #Iot_EPI #VICINITY2020

There is an official brochure about VICINITY project dedicated to the Microgrid Research Programme. Please find it here.
Professor Josep Guerrero, Dr. Juan Vasquez and Dr. Mehdi Savaghebi attended the Kick-off meeting last 20-22 January 2016, hosted by Technical University of Kaiserslautern, in Kaiserslautern, Germany. See all the details here.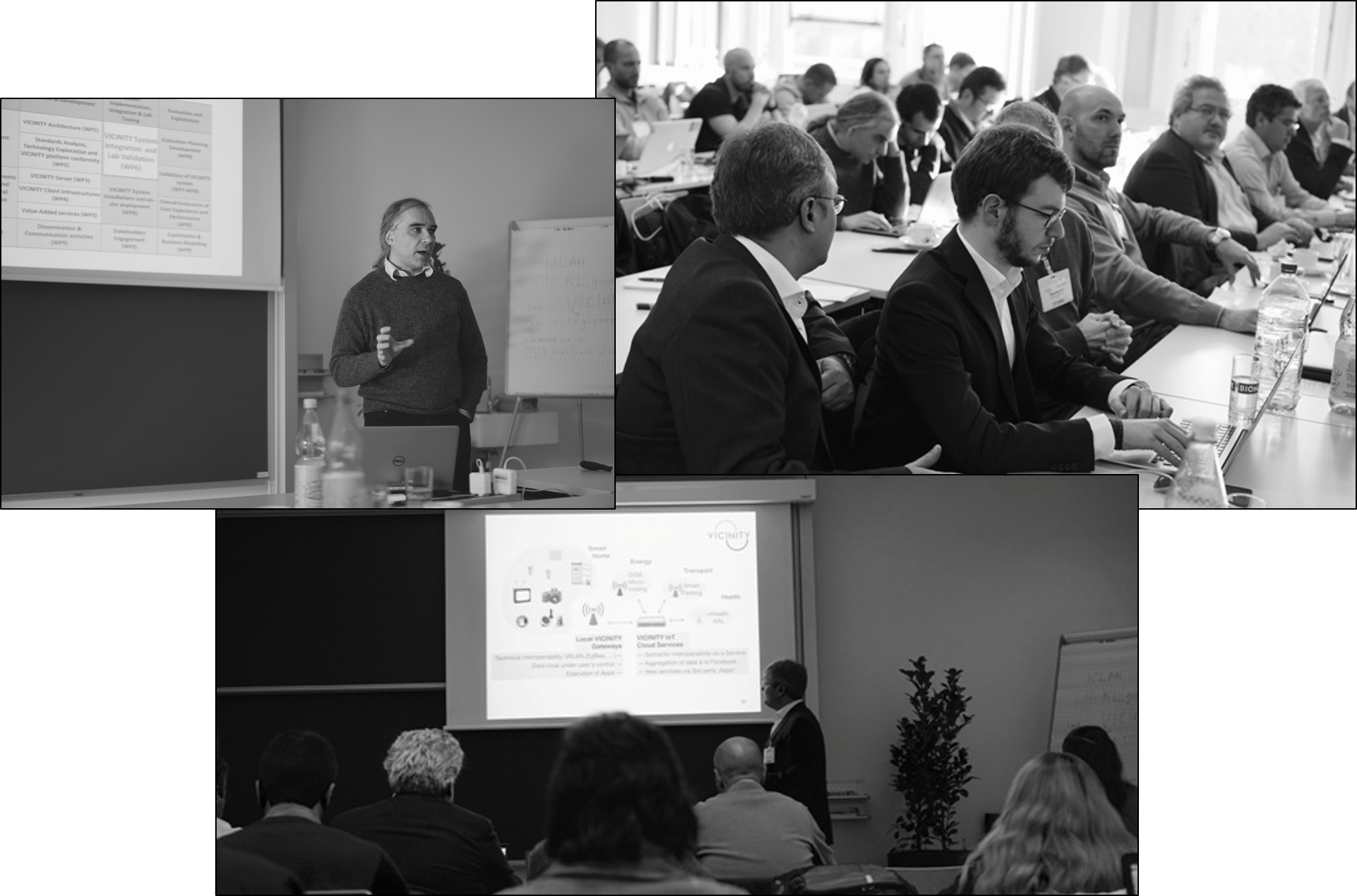 The VICINITY TV spot (in German) here