Official website: http://vicinity-h2020.eu/vicinity
Official Twitter website here
Official LinkedIn website here
Official YouTube website here
Official Facebook here


Announcement: VICINITY has reached the most important milestones: the integrated VICINITY platform has been successfully implemented and its deployment at the proposed Demo sites is done. The project has been reviewed with very good outcomes and advices by the EC and PO reviewers.

Project outcomes: VICINITY testbed deployment, including Validation, Parameterization and Testing
Several laboratory tests have been conducted in four different lab evironments (AAU Microgrid-IoT laboratory, CERTH/ITI Smart House, ATOS IoE lab, and UNIKL lab). The edge testing cases consist of 3 testing scenarios. The first test focused on stress registration properties and it has been verified that the VICINITY prototype can successfully deal with a registration with at least 10,000 properties. The second test is to identify the limit of parallel registrations. The testing results show that 64 adapters in parallel is the Limit of simultaneous registration in current VICINITY platform with light payload. The third test is to validate the platform performance for a GET request with large size of payload. The testing results verify that the VICINITY platform can successfully manage a GET request with 200,000 data.



The internal testing points track the use-cases defined for the pilot sites to verify the functional performance of VICINITY core components, adapters and value-added services (VAS), and ensure the expected operation. The tests cover mobility, building, energy, and eHealth domains and refer to privacy, GDPR VAS, LoRa, and FIWARE-compliant devices, an Omnet++ network simulator and the homomorphic encryption method. Moreover, it should be noticed that all the tests were passed directly or passed after corrections.
Project Outcomes: VICINITY Concept and Architecture
VICINITY is built around the concept of connecting different IoT ecosystems through an open gateway API (providing interoperability as a service) which enables interaction with IoT objects (devices and value-added services) from other different ecosystems as if they were their own. The VICINITY interoperability services inter-connecting IoT ecosystems creates a common environment where value-added services utilizing different devices can be deployed and can operate across different domains, as shown Figure below.


VICINITY Nodes create a controlled VICINITY Peer-to-peer (P2P) Network based on these rules defined by VICINITY Neighbourhood Manager (see figure below – yellow and blue arrows) in VICINITY Cloud. In VICINITY P2P Network, VICINITY Nodes communicate user data directly between each other (red arrows). Moreover, the VICINITY P2P Network support VICINITY Node with security services (such as end-to-end encryption, data integrity, etc.) to ensure security and privacy of exchanged user data.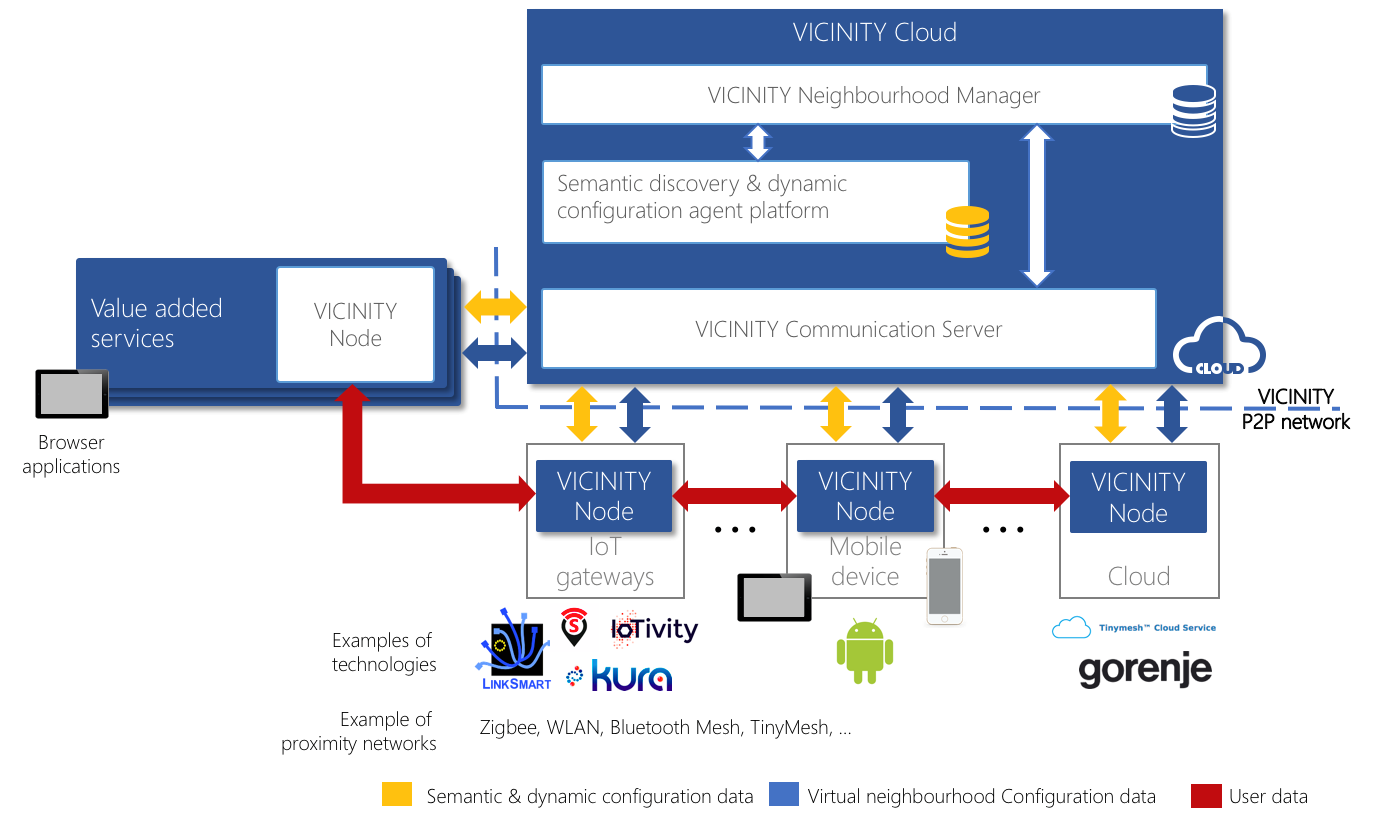 The VICINITY TV spot (in German) here