Project Description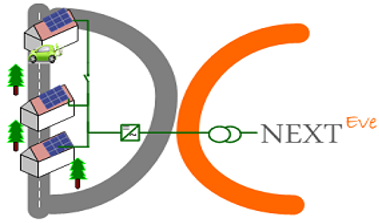 Microgrids are an important concept in the emerging power industry field, and they usually refer to distribution topologies that can work either as a stand-alone subsystem or connected to the main power grid. They are widely recognized as an innovative ecosystem when it comes to a flexible and reliable option for the integration of distributed energy renewable resources (DER).
Several demonstrations for LV DC microgrids showed that when onsite renewable generation, electric vehicles and storage systems are present, DC-based microgrids may offer significant benefits compared to their AC counterparts, such as: higher power efficiency due to fewer conversion stages, higher reliability, lower capital cost, simpler control and more close to universal control strategies, higher power quality and disturbance survivability.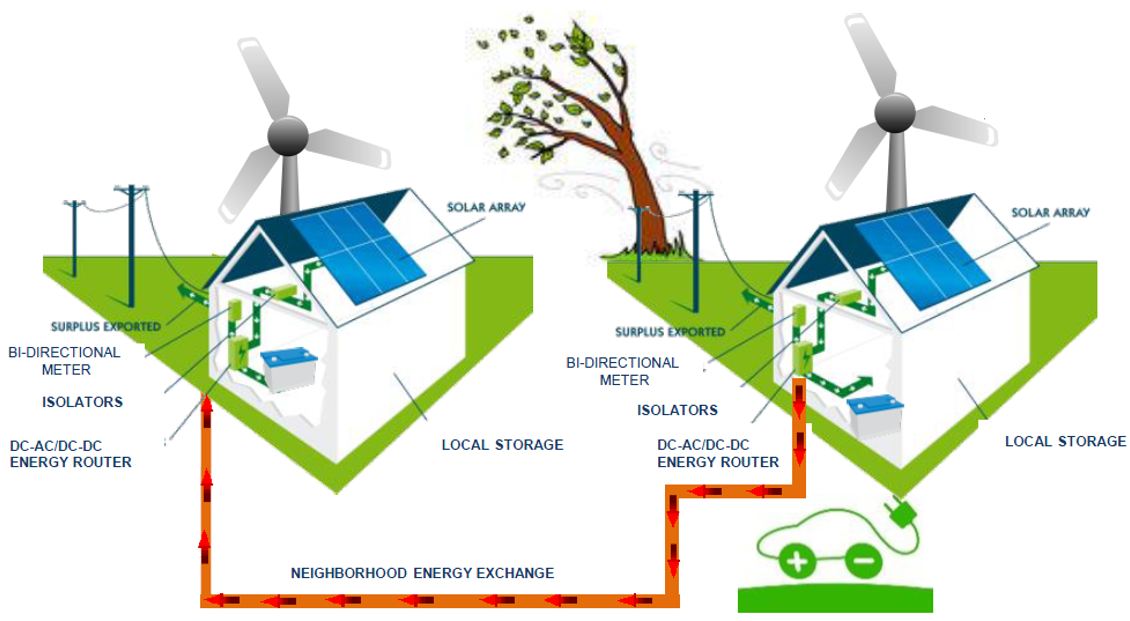 It is to be noted however, that the research on DC microgrids mainly focuses on either comparisons with AC counterpart configuration of the same microgrid in terms of operation (scheduling and optimal operation), or on improvements in the control methods. The current state of the art in the DC building level microgrids architecture is most of the time limited to a radial configuration with a single DC supply bus. As building level DC microgrids expand, it is expected that meshed clusters of microgrids connected at distribution feeders will emerge. The project focus is to analyze several modelling, operation and control methods of clusters of microgrids in a more comprehensive range of possible architectures, where an important consideration in the design of DC microgrids is that of power quality.
This research project is a collaboration between the research team at MicroDERLab from Politehnica University of Bucharest, Romania and the research team of Prof. Josep M. Guerrero from Aalborg University working on the project "Intelligent DC-Microgrid Living Lab".
OBJECTIVES
The primary research objective of this project is the design and analysis of innovative methods for management and control of multiple building scale DC microgrids operating on a specific territory (region) and willing to share the same objective (coordinated distributed management). Both modelling and control actions take into account possible power quality constraints due to increased number of electronic interfaces bridging generation, storage or load with the DC microgrid.
The second main technical objective of this project will be the application of these methods to real, laboratory scale DC microgrids.
Other specific objectives are:
To develop a comprehensive modelling analysis framework for a set of architectures for clusters of LV building level DC microgrids;
To derive a comprehensive set of architectures compatible with clusters of LV building level microgrids;
To develop stochastic models for optimal operation of DC microgrids under uncertainty.
The research advancements proposed in the project have the potential to disrupt the current knowledge on load characteristics (regular home appliances that are usually connected on an AC source) and their actual behavior when directly supplied from the DC sources of a microgrid. It is the research team hope that all this effort will eventually accelerate further knowledge discoveries and moving the society into a new era, of DC-based, low voltage active distribution grids.
Publications
"Power quality based key performance indicators for the design of the control schemes in DC microgrids", 2016 Microgrids Symposium, Niagara Falls, Canada - 19-20 Oct 2016. Presentations are available here: http://microgrid-symposiums.org/niagara-agenda-and-presentations/
"Analytical derivation of PQ indicators compatible with control strategies for DC microgrids," extended abstract for IEEE PES PowerTech, 2017 - submitted on 29/10/2016
PRESENTATIONS
MicroDERLab - Team Meeting - "DCNextEve - Marie Curie Individual Fellowship: Research objectives, implementation path, tools and methodologies to be used" - 10/09/2016
Contact
PRINCIPAL INVESTIGATOR
Postdoctoral Researcher Dr. Irina Ciornei
Email: Irina.ciornei@upb.ro
COORDINATOR
Prof. Mihaela Albu albu@ieee.org
COLLABORATOR
Professor Josep Guerrero
Email: joz@et.aau.dk
Grant and Period
This project has received funding from the European Union's Horizon 2020 Research and Innovation Programme under the Marie Sklodowska-Curie Individual Intra-European Fellowship (H2020-MSCA-IE-IF). Grant agreement No 708844.

Starting Date: 1st of July 2016
Duration: 24 months
Total EU Funding: 137422€