The IoTeam (PhD guest - Saad El Jaouhari, Amjad Anvari, Emilio Palacios, Enrique Rodriguez and Juan C. Vasquez) implemented a new IoT archtiecture on Safety and Health In Future houses as a Proof of Concept integrated in the recently built IoT demostration living house.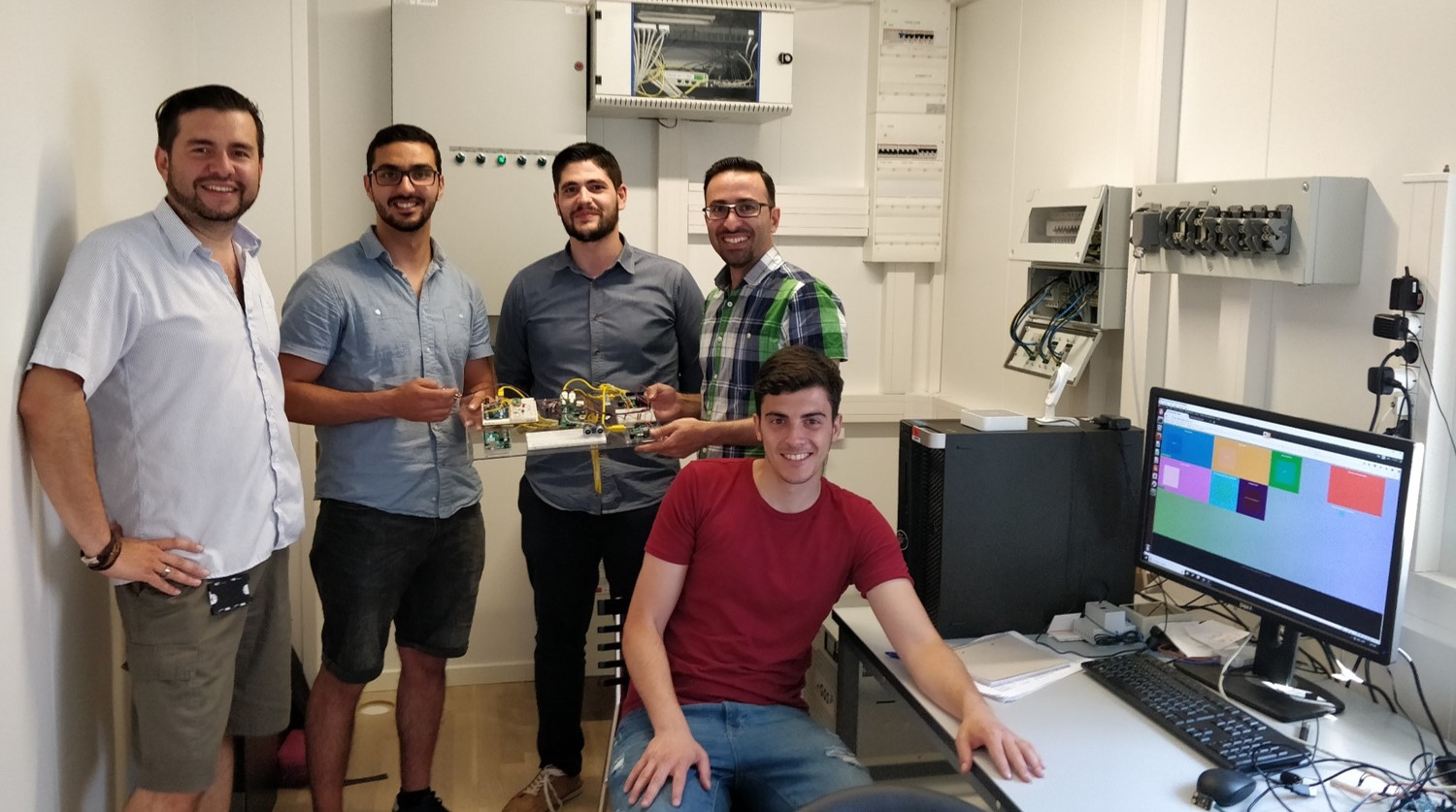 News: Dr. Emilio Palacios was selected by the Dept of Energy Technology to support him as a potential talent to apply for an Individual Fellowships | Marie Skłodowska-Curie talent 2018. He will attend the AAU MSCA Talent Course 2018 management course.
News: Dr. Enrique Diaz and Dr. Emilio Palacios attended the IOT WEEK 2018 on June 4-7 in Bilbao, Spain. The event includes 200+ sessions, workshops and activities covering IoT topics: Emerging IoT Research and Development, IoT and Big Data, IoT and Smart Cities. Special attention will be given to:
- AIOTI WG03 Semantic Interoperability
- GIoTS Session: IoT Enabling Technologies
- Blockchain Technology and IoT New Challenges
- IoT for Sustainable Development in Africa and Asia
- Enabling next Generation of Energy Services with IoT


News: Dr. Emilio Palacios, Dr. Enrique Diaz and Assoc.Prof. Juan Vasquez will attend the INTERNET WEEK DENMARK. A five days festival with 100+ events in and around Aarhus on May 2 - 6, 2018.
Relevant sessions:
- Opening: Where is technology taking us next?
- Blockchain for everyone (Technologies,Bitcoin, Ethereum & Hyperledger)
- Angular meet-up day ngAarhus
- Internet of Things Trends: Trending within Big Data and Machine Learning





Annoucement: There is a Special Session on Microgrids 2018. Deadline for manuscript submissions: 30 June 2018.


News: Emilio Palacios, Enrique Diaz and Juan Vasquez attended the Seminar entitled "Blockchains and Databases: What is the Difference". relevant topics:
- IBM Fellow C. Mohan: "Blockchains and Databases: A New Era in Distributed Computing"

- Prof. Torben Bach Pedersen, "Using Blockchains in the Energy Sector and Beyond"
- CEO Laurynas Siksnys, "FlexShape:Making Energy Communities Smart with Blockchain"
Panel session: "When to use blockchains, and when not to?"

Annoucement: There is a Special Session on The Digital Revolution in Future Power Distribution and Microgrids In Energies. Deadline for manuscript submissions: 30 November 2018. For more information, please see the SS website here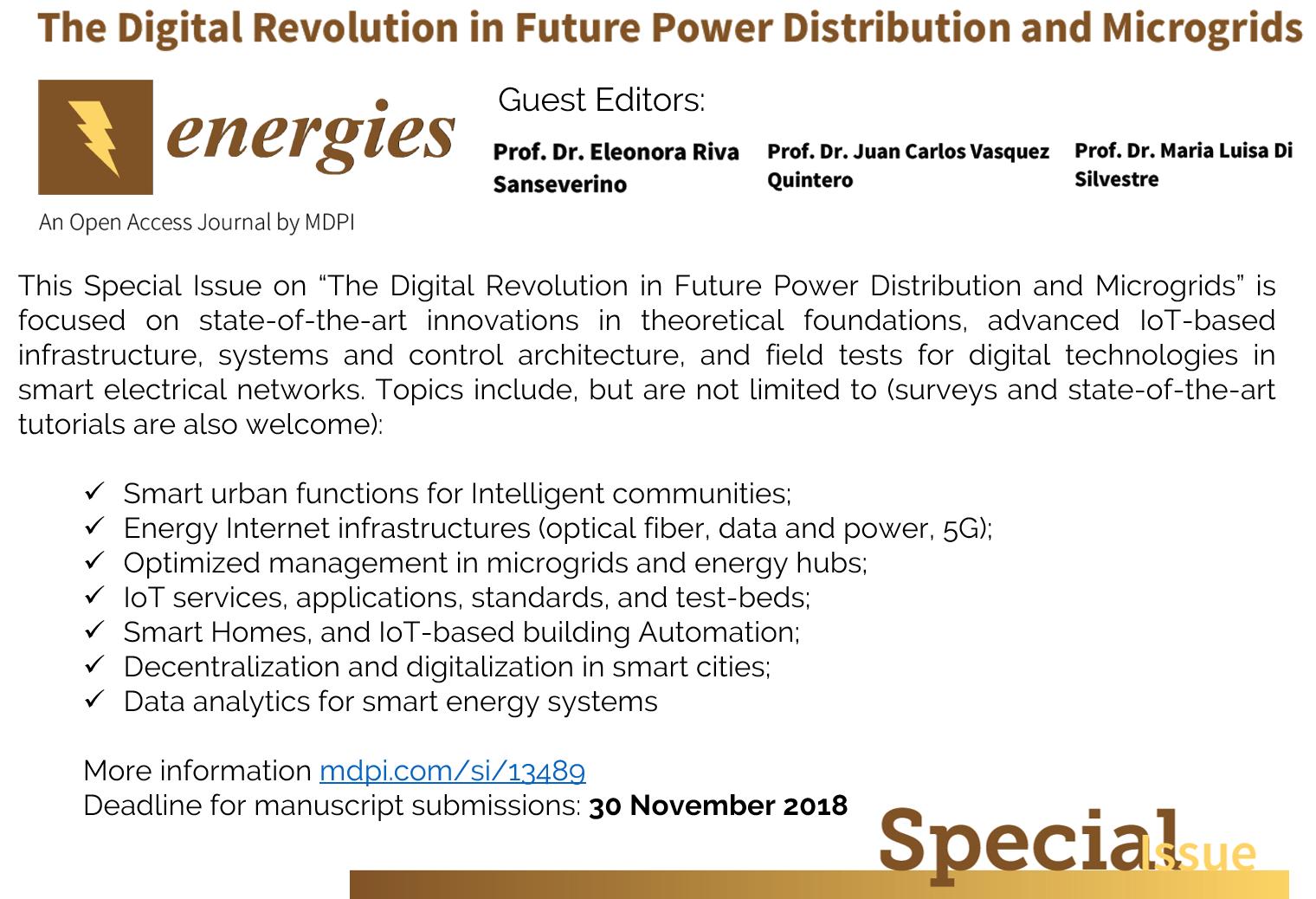 Annoucement: Assoc. Professor Juan Vasquez has been awarded as Clarivate's 2017 Highly Cited Researcher. Clarivate Analytics has recently published their 2017 list of Highly Cited Researchers which includes more than 3,300 researchers. Four researchers from the Department of Energy Technology have made it to this year's list. Please see the full news here.

Event: Associate Professor Juan Vasquez, Professor Josep Guerrero, Associate Professor Mehdi Savaghebi and the Postdoctoral Researcher Yajuan Guan presented a Tutorial entitled: The Internet of Energy - The Building-Block for the future Smart Grids at the 43rd Annual Conference of the IEEE Industrial Electronics Society (IECON2017).
Date: October 29 - November 1st, 2017. 8 papers were presented.
Event: Dr. Amjad Anvari-Moghaddam attended the 10th IEEE International Conference on Internet of Things (iThings-2017) in Exeter, Devon, UK as the chair of the International Workshop on Energy Internet.



Event: Dr Juan Vasquez attended the AAU Talent Management Programme Event with the 2003 Nobel Laureate in Chemistry Peter Agre, MD

Update: Dr Juan Vasquez will attend the AAU Interdisciplinary Workshop on Intelligent, Sustainable and Integrated Energy Development and Consumption on April 24. The aim is to bring relevant perspectives and ambitions on future research projects in order to foster innovative interdisciplinary collaboration
Update: Dr. Juan Vasquez and Prof. Josep Guerrero will visit the Danish IoT manufacter Develco Products A/S in Aarhus. The purpose of this visit is to establish a partnership intended for future IoT projects. Develco products will be integrated for smart home, smart energy, home security, and healthcare applications in the IoT Microgrid living laboratory.
Update: Dr Juan Vasquez will attend the Seconded European Standardization Expert in China (SESEC) webinar on "EU & China IoT Standardization", given by Dr. Betty Xu on April 11th.
Annoucement: Dr Mehdi Savaghebi is a co-chair for a Special Session on Communications and Control in Power and Energy Systems will be held in conjunction with the 17th edition of the IEEE International Conference on Ubiquitous Wireless Broadband ICUWB'2017 in Salamanca, Spain, from September 12th to 15th, 2017. Deadline: April 24th, 2017. Please see more information here
Annoucement: There is a iTHINGS-2017 Special Session on Energy Internet - Integrating Internet of Things into the Smart Energy Systens. Deadline: Extended to 23 March. Please see more information here
A short link to this webpage for future citations and references www.iot-energy.et.aau.dk
Annoucement: One PhD stipend will be annouced to be started in the first quater of 2017. See all the information here.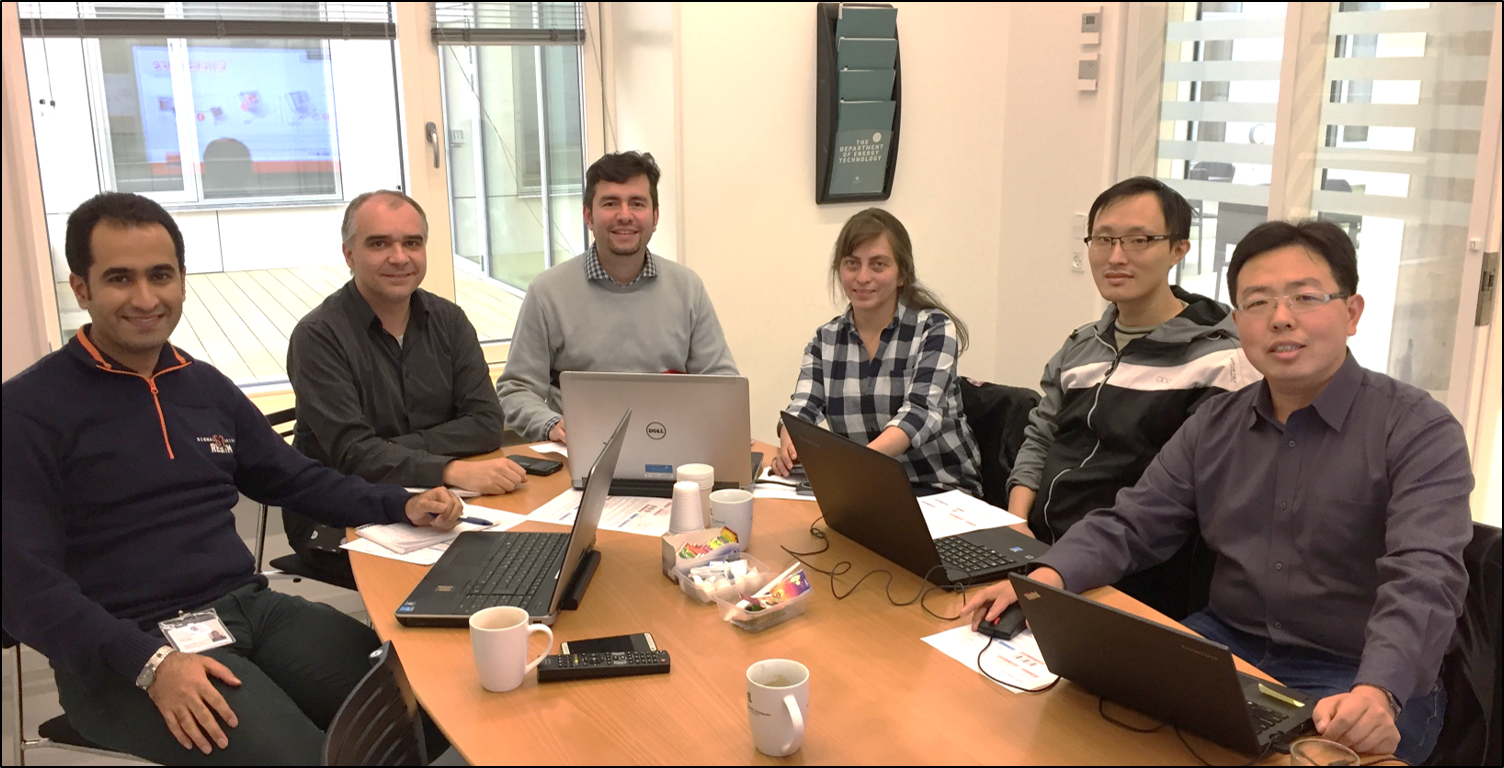 News: Associate Professor Juan C. Vasquez and Prof. Josep Guerrero will attend the IoT Solutions World Congress taking place October 25-27, 2016. The congress is building to be an International reference for Industrial Internet-of- Things and Energy use cases.

Selected 18 AAU researchers and the Executive Board for the university's new talent development program as part of the AAU Strategy - Knowledge for the World


Two MSc projects proposals have been announced in connection with the research methodology and structure of this project.